MIDS Summer 2016 Capstone Presentations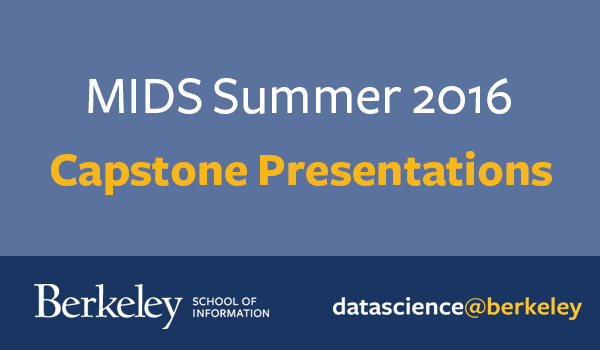 On August 25, the summer 2016 datascience@berkeley graduates presented their capstone projects in a public webinar. For the capstone project, the graduates were tasked to solve a real-world situation or problem utilizing their data science skills in communication, problem-solving, influence, and management to provide a fully realized solution. From simplifying the complexities of healthcare options to consumers, to understanding and detecting the distractions of today's drivers, many groups were focused on using data for the betterment of society – a theme that is rooted in the fundamentals of the I School at UC Berkeley. Below we've compiled the full list of the capstones, short descriptions of each, and links to learn more about the projects.
Hal R. Varian MIDS Capstone Award
Named after the founding dean of the UC Berkeley School of Information and current Chief Economist at Google, the Hal R. Varian Capstone Award is presented to project groups based on an exceptional demonstration of the skills and tools acquired at the culmination of the MIDS program. Recipients of this award will be announced later this year.;
Below is a summary of the Summer 2016 capstone project presentations:
AidSight: Information and Insight in the International Aid Sector
AidSight is a first-of-its-kind platform that makes international development data understandable and digestible at a glance so that aid professionals can focus less on navigating messy data and more on making the world a better place.
Understanding brand health and popularity using Reddit.
GoalTick – The personal assistant to help you tick all your fitness goals!
Simplify searching for relevant content in patents that leverage the textual similarities in the claims text to find most relevant patents for a given subset of patents.
What if you shopped for Obamacare health insurance plans the same way you shop on Amazon –with faceted search, ratings and recommendations?
Sherlock Homes: Investigating Property Growth in Australia
What factors affect property growth? Find out with Holmes – a unique tool investigating property growth in Australia.
Soteria: Distracted Driver Detection
Deep Learning for safe driving.
What do you do when the data doesn't exist? Use big data processing and ML techniques to create an open-source dataset from the web.
Citation for this content: datascience@berkeley, the online Master of Information and Data Science from UC Berkeley