Data Analyst vs. Data Scientist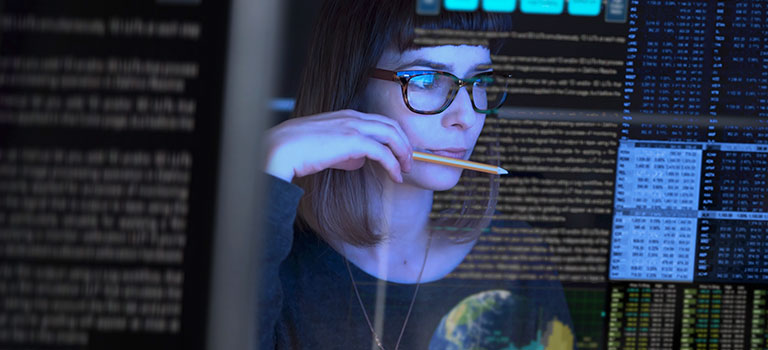 Difference Between Data Science and Data Analytics
While both data science and data analytics involve using data to help make decisions, there are several differences between the two. The primary difference between data science and data analytics is that data analysts gather data to identify trends while data scientists use those trends to build models, create algorithms, and design tools and frameworks to make more sense of the data itself.
Another difference between data science vs data analytics is that data analysts use statistical analysis skills to solve problems. Data scientists, on the other hand, use their knowledge of business concepts and critical-thinking skills to understand data and determine how to apply it in a given situation. Data scientists are often revered for their mathematical and statistical aptitude and how they use those skills to approach complex situations.
Data analysts use programming languages and visualization tools to clean, analyze, and communicate data — helping people gain a better understanding of it. On the other hand, data scientists may spend their time developing new tools for extracting the data itself and organizing it in a way that's useful to others.
Basically, data analytics is a subset of data science, and both occupations center around using data to help make more informed, strategic choices — but they play different roles in that process.

Data Analyst Career Path
The data analytics career path varies based on one's given situation and preferences; however, it often begins with earning a bachelor's degree in business, operations research, management science, analytics, mathematics, or a related quantitative field, according to the U.S. Bureau of Labor Statistics (BLS). These degree programs typically include foundational math courses, namely statistics, calculus, and linear algebra. Courses in computer science and related subjects like engineering may also be useful as data analytics is an interdisciplinary field with job openings across a number of industries. From core lessons to electives, aspiring professionals build the skills and competencies needed to carry out their daily work.
Data analyst career progression is based on both education and professional experience. While entry-level positions may only require a bachelor's degree, some employers may prefer applicants who hold a master's degree. Data analyst career growth is possible with continuing education and experience in various aspects of the field. Continuing education can help data analysts stay up-to-date on industry trends, tools, and technology so employers know candidates have a varied skill set and relevant knowledge to complete the job successfully.
Data Scientist Career Path
Like the data analyst career path, the data scientist career path varies from individual to individual. Typically, those entering the field complete a master's degree program in a field related to computer science, according to the BLS. Such fields include computer engineering or information systems. A master's degree in these fields typically takes between two and three years to complete.
While many employers look for continued education beyond a bachelor's degree, it may be enough for certain jobs with the federal government. Still, other employers might prefer candidates who hold a Ph.D.
A data scientist career can take many forms, which means the path to become a data scientist also varies by specialization. Depending on your desired role, knowledge and additional training in your chosen area may be required. With more tenure, data scientists can hold managerial or leadership positions as well.
Data Analyst Skills
Being a data analyst requires a lot of the same advanced quantitative and technical skills used in the field of data science — from statistical analysis to machine learning. Knowledge of computer science and engineering is also critical to most data analyst roles. As a general rule of thumb, data analysts have strong analytical, communication, critical-thinking, interpersonal, problem-solving, and writing skills. Good attention to detail and organizational skills are also important to the data analyst experience as data analysts are responsible for sifting through data and laying it out in ways that make data easy to understand and work with. It's critical that data analysts are able to catch errors to ensure their reports are accurate.
Depending on the specific field a data analyst chooses to work in, experience and skills in those industries will also be required of a candidate. For example, if someone wants to work with data related to political science or economics, knowledge of concepts within those fields will be valuable.
Data Scientist Skills
Data scientist skills that are important to the role include analytical skills, communication skills, attention to detail, interpersonal skills, logical thinking, mathematics, and problem-solving skills. As critical thinkers who are fascinated by complex problems, data scientists have the perseverance to solve them. Data scientist qualifications go beyond just technical skills and often call for collaboration and abstract thinking to be able to map out data efficiently. One aspect of data science jobs is creating models to display information, so a level of creativity and an eye for design may also be helpful.
Skills in programming languages or robotics are also useful as many data scientists are responsible for building models or graphs that will make sense of data and lay information out in a way that's digestible for users. Depending on what specific area a data scientist chooses to work in, skills in that given industry or subject matter are also important.
Data Analyst Job Outlook
The operations research analyst job outlook shows the occupation growing by 25 percent from 2020 to 2030, according to the BLS. This growth is much faster than the average for all occupations, which shows how in-demand these positions are and will continue to be. 
Data analyst job growth can be attributed to the continuous advancement of technology and the growing need for technical innovation. Companies are always looking for ways to make their operations more cost-efficient, productive, and profitable — and analyzing data can play a role in determining what aspects of business operations may be improved. Analyzing data is a main priority for a number of businesses and organizations, and advanced technology makes it even more accessible.
Across industries, many companies seek professionals who can sift through data to determine business priorities — and this contributes to a very promising data analyst career outlook. In 2020, 104,100 people were employed in this position, and that number is expected to reach 129,700 by 2030. 
Data Scientist Job Outlook
According to the BLS, the employment of computer and research scientists is projected to grow 22 percent from 2020 to 2030, which is much faster than the average for most occupations. In 2020, 33,000 people were employed as computer and research information scientists. By 2030, that number is expected to reach 40,200, signaling a strong demand for data scientists. The BLS also estimates that each year, there are around 3,200 job openings for computer and information research scientists. 
As the demand for more advanced technology increases, so does the need for data scientists in various industries. Businesses are continuing to prioritize looking at data to aid in their business decisions, which means getting a job in data science could be feasible for years to come. There is also a growing interest in having top-of-the-line cybersecurity measures in place to protect data, and data scientists will be crucial to those conversations.
Data Analyst vs. Data Scientist Salary
A data analyst vs data scientist salary is often pretty similar. According to the 2020 BLS data, operations research analysts earned a median wage of $86,200 while people with data science and mathematical occupations earned a median annual wage of $98,230 per year. The BLS also reports that in 2020, the lowest 10 percent of operations research analysts earned less than $48,050, and the highest 10 percent earned more than $144,330. 
These wages vary based on the level of experience an employee has, what company they work for, geographic location, and what industry they work in. For example, operations research analysts working within the federal government earn the highest salaries, with the BLS reporting an annual median wage of $119,720 in 2020. Operations research analysts in manufacturing earned $94,340, and those involved in managing companies and enterprises made $91,000. Finance and insurance analysts earned $86,280, and professional, scientific, and technical services analysts earned $85,950.  
Data scientists working in computer systems design and other related fields earned the highest mean salaries in 2020 — $111,490, according to the BLS. Data scientists working with management of companies and enterprises earned a mean annual wage of $107,980, and those overseeing the management of scientific and technical consulting services earned $100,800. Scientific research and development services data scientists earned a mean yearly wage of $109,610, and data scientists working with insurance carriers earned $104,670 annually. 
Online Master's in Data Science Program With UC Berkeley
A master's in data science may be a launchpad for individuals interested in landing a job in data science or data analysis. Earning a degree is the first step — and, from there, further education and experience can propel people into a role within their preferred industry. By gaining technical know-how, mathematical knowledge, and solid critical-thinking skills, students can prepare themselves for a career in data science or data analysis.
Last updated September 2021.
Learn More About UC Berkeley's Online Data Science Program