Cybersecurity vs. Computer Science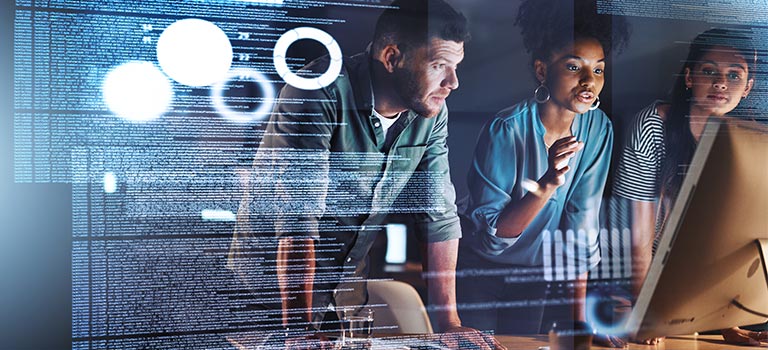 Difference Between Cybersecurity and Computer Science
Cybersecurity and computer science are closely related, but where do the two technology-based fields diverge?
Cybersecurity is a field that encompasses the methods and practices that detect, prevent, and respond to critical cyberattacks by hackers in order to secure and protect computer networks and systems. These cyberattacks can damage the integrity of websites and data of individuals, organizations, and governments alike. Cyberattacks may be performed in order to steal information, lock and sell back data in exchange for a ransom, or destabilize an entity to harm its reputation. In 2020, the average cost of a data breach in the United States was $8.64 million, according to IBM. A staple in the modern era, strong cybersecurity solutions can help mitigate the effects of cyberattacks and prevent them in the first place.
Computer science is a field concerning the study and development of computers and computational technologies. Computer scientists may study problems to determine the needs of individuals across business, science, medicine, and many other areas — then design algorithms that help solve those problems. Using data science and machine learning techniques, computer scientists can also develop and execute tests to gauge the operational level of software systems, then assess their results and revise the software design as needed. Some computer scientists design programming languages or applications to address gaps in particular areas of software development.
The difference between computer science and cybersecurity is that the latter is a subset of the former. In other words, cybersecurity uses computer science techniques and methodologies to develop software dedicated to protecting users and organizations against cyberattacks. Computer science is the broad field in which cybersecurity is situated.
Cybersecurity Career Path
To embark upon a cybersecurity career path, a bachelor's degree in computer science, information technology, or a related field is often a prerequisite. Employers may look for related work experience specific to cybersecurity, such as an internship as a network and computer systems administrator. There is also the option to earn a master's degree in cybersecurity. Advanced degree programs allow you to develop in-depth knowledge of key cybersecurity practices and trends.
In addition, preferred employment may be granted to those with security certifications. Certifications like Security+ may be beneficial for entry-level workers who do not have a degree in cybersecurity, while more advanced certifications such as the Certified Information Systems Security Professional (CISSP) can strengthen the marketability of people who have some years of experience in the field of security.
Computer Science Career Path
To start out on a computer science career path, you may need a master's degree in computer science or a similar field like computer engineering. Depending on the industry, some employers might prefer to hire people with even more advanced education, such as a Ph.D. in computer science. Such candidates have formal research experience and a broad awareness of core concepts and best practices in the field, from algorithms and theory to software engineering and machine learning.
Some employers, such as the federal government, may only require a bachelor's degree in computer science or a field like information technology. Still, those with only a bachelor's degree may have fewer employment options available to them.
Finally, to find employment in a subfield of computer science, you may need experience and certifications in that unique domain.
Cybersecurity Skills
In addition to having robust technical knowledge, cybersecurity professionals also exhibit a variety of in-demand cybersecurity skills. For example, critical thinking and creativity are both crucial since a career in cybersecurity involves studying complex computer-based systems and networks in order to methodically assess, anticipate, and prevent potential cybersecurity risks. Strong communication skills also come in handy when cybersecurity analysts and developers are required to explain important security needs and threats they've identified to audiences within their organization.
Of all the cybersecurity skills out there, problem solving is among the most important. The world of cybersecurity — and technology more broadly — is fast-paced, so cybersecurity professionals are constantly required to respond to pressing cybersecurity alerts while also proactively finding and addressing security flaws in existing systems and networks. Close attention to detail and expert knowledge of core cybersecurity tenets is essential for ensuring the integrity of customers' and organizations' data.
The online Master of Information and Cybersecurity from UC Berkeley School of Information can help you develop these cybersecurity skills while learning about core cybersecurity principles and research areas. Courses in the online program dive deep into areas such as privacy engineering, government and national security, cryptography, applied machine learning, and more.
Computer Science Skills
There are many computer science skills an individual can develop and leverage on the job. First of all, computer scientists must be adept at solving complex problems. They should also be able to employ sound logic and thoughtful reasoning to complete projects successfully, whether that be developing efficient algorithms, creating useful software, or managing cloud computing systems.
Computer scientists are often analytical, systematic thinkers. This type of thinking can help computer scientists assess software in order to understand and optimize functionality. The ability to clearly communicate dense technical information is another useful skill for these professionals who work with computer science colleagues and management to critique others' work and receive feedback. Finally, a computer scientist's work wouldn't be possible without an expert grasp of advanced mathematical principles.
Cybersecurity Job Outlook
Cybersecurity job growth is healthy and on the rise throughout the United States. According to the Bureau of Labor Statistics (BLS), employment of information security analysts (another title for cybersecurity professionals) is projected to grow 33 percent between 2020 and 2030, with 16,300 job openings expected each year. This is significantly faster than the average growth of other occupations. Demand for cybersecurity experts is expected to increase as cyberattacks become more and more frequent due to new, unprecedented forms of cybersecurity threats. In addition, the introduction of new cybersecurity technologies to a variety of industries will require organizations to invest in talent and tools that help them effectively defend against cyber threats.
Though the field is still growing, it does offer a number of high-paying positions. The median information security analyst salary in 2020 was $103,590, according to BLS salary data.
Because the field is constantly evolving, it's important to stay at the forefront of emerging trends and tools and ensure that your credentials and skills are relevant and up to date. Carefully study the various positions available to you and take note of cybersecurity career outlook and salaries across states and cities.
Computer Science Job Outlook
The computer science career outlook in the United States is expected to grow considerably in the coming years. Across the computer science and information field, there's a consistent demand for new technologies to solve unique problems across industries. There's also always a need for implementing new ideas into pre-existing technologies to accommodate emerging business needs, making computer science an evergreen career path.
Employment of computer and information research scientists is projected to grow 22 percent between 2020 and 2030, with 3,200 job openings expected annually. Aside from promising computer science job growth, professionals in this field have the potential to earn above-average salaries. The median computer and information research scientist salary in 2020 was $126,830, according to the BLS.
Online Master's in Cybersecurity Program With UC Berkeley
Earning an online master's in cybersecurity can lay the foundation for a path that guides you toward an exciting career in cybersecurity. After earning a high-quality cybersecurity education from anywhere in the world, you'll be prepared to pursue a cybersecurity career with far-reaching impact.
Last updated February 2022.
Learn More About UC Berkeley's Online Cybersecurity Program