MIDS 2018 Winter Commencement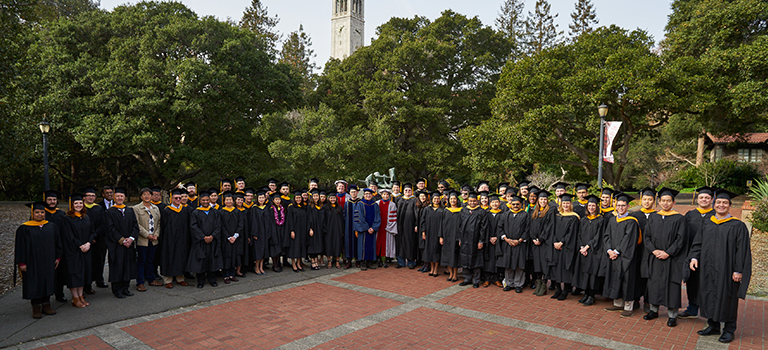 On January 21, the UC Berkeley School of Information (I School) recognized more than 100 summer and fall 2017 graduates with their families at the winter commencement. It was an intimate ceremony despite the online nature of the school's Master of Information and Data Science (MIDS) program, moving some online students to reflect on their accomplishments.
"I feel like I've been baptized," said Michael Rubin. "The honor of working and learning with this collection of bright and energetic minds … was entirely mine."
Another student, Geoff Stirling, commented on how the program has seeped into his family life — in a positive way. "Our son was born just two weeks before I started my first week of the MIDS program," he said. "He's now 'one MIDS program' old, having just turned 2 at the end of December."
The MIDS program fosters a sense of community for its online students, regardless of geography. Dean AnnaLee "Anno" Saxenian attributes this to the dedication and time required to succeed in such a rigorous program.
Keynote Speaker: Professor David Reiley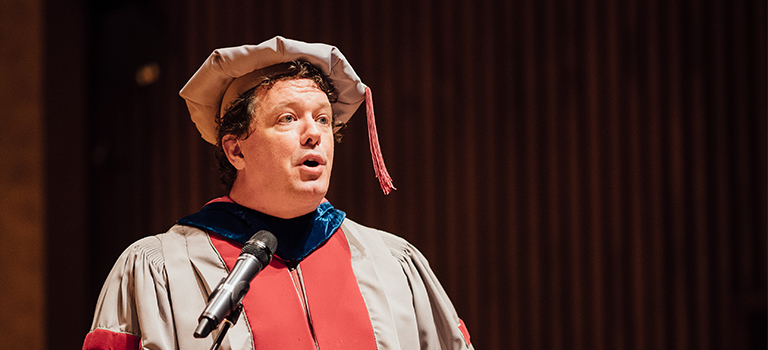 The first person to address the group was keynote speaker David Reiley, an adjunct professor at the I School. Reiley, a former economist at Pandora, was one of the first faculty to join the MIDS program, and the winner of the MIDS Distinguished Faculty Award in May 2016. He spoke about curiosity and empathy, which he compared to science and love.
"While it's easy to find institutions that help us develop cognitive skills," Reiley said, "it's harder to find ones that help us develop emotional skills." He closed by providing graduates with strategies they should use to develop the skills they'll need to cultivate the love:
See other people as people, rather than objects. Reiley said it is crucial to tap into shared humanity in our experiences with other people.
Be vulnerable. Vulnerability promotes intimacy. If we only share the positive in our lives, we will feel more lonely and less connected to one another.
Notice your feelings of love. These physical feelings are worth savoring and cultivating.
Watch Reiley's keynote address.
MIDS Student Speaker: Dominic Delmolino
After Reiley, student Dominic Delmolino, a 25-year veteran of the IT industry, spoke about the importance of family and the MIDS program. He said it was because of his family's "steadfast confidence" and "clear statement of support" that he was pushed to apply to, and succeed in, the program.
Delmolino said community sets MIDS apart from other online degree programs. While students may never meet in person, they connect and collaborate, and manage to create an extraordinary community.
"We smiled at children who wandered in on class, and we laughed at pets who dropped in to see what we were doing," he said.
Watch Delmolino's student address.
And the Winners Are …
Dean Saxenian then presented the Hal R. Varian MIDS Capstone Award for outstanding capstone projects, a collaborative project students complete during their final term.
The summer term award was presented to Arvin Sahni, Jacky Zhang, Jason Sanchez, and Nandu Menon for "Machine Learning For All" — a platform for organizations that have data and want to harness the power of machine learning without incurring the time and cost of hiring data scientists and machine learning experts.
The fall term award was presented to two teams: "Deep Jams: Machine Intelligence Meets Music Composition" and "FlexCheck."
"Deep Jams," created by Saif Ahmed, Andrea Pope, and Byron Tang, allows users to augment traditional music compositions with model-generated extensions. "FlexCheck," created by Annie Lee, Jason Blauvelt, and Motasem Salem, uses computer vision to help you track your progress in injury recovery or performance training. It does so by using deep learning technology and the latest advances in computer vision to identify key body parts and calculate the relevant angles for a number of positions.
The final award of the ceremony, the MIDS Distinguished Faculty Award for the most outstanding instructor, chosen by graduates, went for the third consecutive time to D. Alex Hughes, a postdoctoral scholar and lecturer who teaches Experiments and Causality in the MIDS program.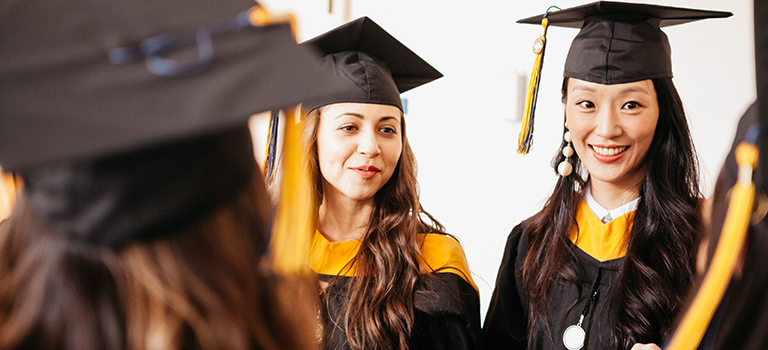 Closing Remarks
When Delmolino was asked why he wanted to become a data scientist, he said he aspired "to use data to improve society in meaningful, impactful ways." Dean Saxenian echoed this sentiment in her closing remarks, encouraging graduates to stay connected to each other and the greater good of data science.
"Help us build the MIDS community into something that will benefit all of us," she said. "I couldn't be more proud of every single one of you."
Citation for this content: datascience@berkeley, the online masters in data science from UC Berkeley