How to Become a Quantitative Analyst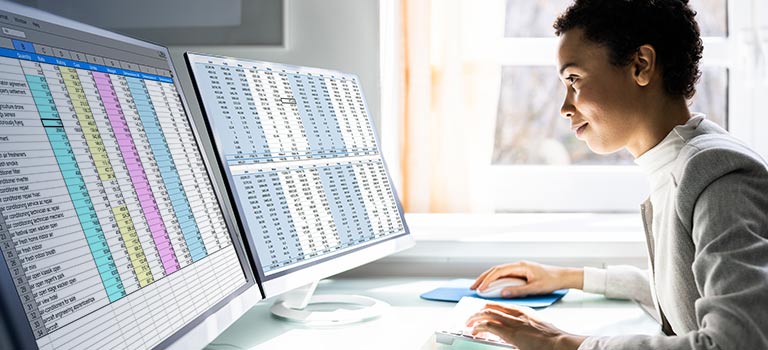 What Does a Quantitative Analyst Do?
If you love math, finance and computer science, a career as a quantitative analyst could be a suitable path for you. While a number of responsibilities fall under the typical quantitative analyst job description, generally speaking, these professionals leverage statistical models to analyze data and help businesses make informed decisions. That said, there are several different routes quantitative analysts can pursue depending on their unique interests and skill sets, from research to risk analysis.
Quantitative analysts are highly sought after by employers, which explains their above-average earning potential and job outlook. Between 2019 and 2029, the Bureau of Labor Statistics (BLS) expects financial analyst jobs to grow by 5% and research analyst jobs to grow by an impressive 25%. The good news doesn't stop there. BLS data from 2020 suggests that the quantitative analyst average salary falls between $83,660 per year and $86,200 per year. Keep in mind that with an advanced degree or position in a particularly lucrative industry—investment banking, for example—it's possible to earn an even higher quantitative analyst salary.
Quantitative Analyst Career Path
Similar to many other professions, the typical quantitative analyst career path begins at the entry level, moves on to the junior level and finally advances toward the senior level. The requirements to start on this path, however, can look different depending on the organization, industry and role.
While most professionals can embark on their quantitative analyst careers with only a bachelor's degree, some employers prefer a master's degree for entry-level positions. And even if an employer doesn't require an advanced degree at the entry level, they might require one at the junior or senior level. In general, quantitative analysts continue learning throughout their careers in order to stay up to date with the latest softwares, analytical methods and programming languages.
Entry-Level Quantitative Analyst
Despite having limited experience in the field, an entry-level quantitative analyst can still be highly skilled. Employers generally expect them to have a strong understanding of programming languages and quantitative models, even when just launching their careers. Depending on whether the role specializes in research, risk analysis or finance, responsibilities can involve anything from data collection to risk management.
But unlike other fields, there's no industry standard for what qualifies someone for an entry-level analyst position. Some employers may only require a bachelor's degree in a relevant quantitative field, but others may seek candidates with a master's degree, PhD or background in academia.
Due to the varying levels of experience for these positions, the typical entry-level quantitative analyst salary varies as well. The BLS states that the lowest 10% of operations research analysts earned a median salary below $48,050 per year in 2020 while the lowest 10% of financial analysts earned below $48,760.
Junior Quantitative Analyst
By the time professionals reach the level of junior quantitative analyst, they've likely acquired enough years of experience, preparing them to take on more responsibilities at work. While the details of the role will depend on the organization and specialty, junior quantitative analysts hold and use similar programming and statistical skills to entry-level analysts, including Python, C++, and R.
At this higher level, employers may require a master's or doctoral degree in a quantitative subject like mathematics, engineering or computer science while some may be satisfied with a bachelor's degree. The expected junior quantitative analyst salary typically falls somewhere between entry-level and senior salaries.
Senior Quantitative Analyst
A senior quantitative analyst is often tasked with leading organizations' financial planning and forecasting efforts. This includes building forecasting models and translating data into insights to guide business decisions. At competitive organizations, senior quantitative analysts may forge their own research.
To become a senior quantitative analyst, candidates generally need even more years of experience than a junior analyst in their chosen area of expertise. Employers may seek out candidates with advanced degrees in engineering, mathematics or applied computer science, to name a few.
Like at other levels, senior quantitative analyst salaries can vary depending on the industry. According to 2020 BLS data, the top 10% of financial analysts earn median salaries of more than $159,560 per year, while the top 10% of operations research analysts earn over $144,330 per year.
Types of Quantitative Analyst Jobs
There are a number of quantitative analyst jobs to consider, and each encompasses a different specialty within the field. Quantitative financial analysts, for instance, are experts in evaluating investments and the market. Quantitative risk analysts are similarly knowledgeable about the market, but their primary responsibility is to study and make recommendations about the risks inherent in certain investments. Occupying a slightly different role are quantitative research analysts who conduct original research and gather large amounts of data in order to analyze it for actionable insights.
While these roles have different areas of expertise and distinct responsibilities, they can require many of the same technical skills. A strong grasp of technology and statistics—particularly simulations, machine learning, and statistical modeling—may help aspiring quantitative analysts land these desirable roles.
Quantitative Financial Analyst
As the name implies, a quantitative financial analyst specializes in financial markets. They use models and analytical tools to provide traders with data on securities, make recommendations about investments and study business and economic trends. Hedge funds are popular places for these professionals to work, but they can be employed by any type of institutional investor from large nonprofits to insurance companies.
Although entry-level positions usually only require a bachelor's degree, some employers prefer candidates with a master's degree or additional credentials like a Chartered Financial Analyst (CFA) certification or Financial Industry Regulatory Authority (FINRA) license for managerial positions. It's hard to say what a typical quantitative financial analyst salary is, but because these professionals tend to work in lucrative industries like banking, they can make considerable earnings.
Quantitative Risk Analyst
Like quantitative financial analysts, a quantitative risk analyst is an expert in the financial market but specializes in one area in particular: evaluating and mitigating losses. This person is skilled at gauging investment risks with statistical analysis software, econometric models and statistical techniques. Due to the high technical ability required to complete quantitative risk analysis, these professionals often possess advanced software and statistical skills.
Educational requirements for quantitative risk analysts are similar to those of quantitative financial analysts, and a CFA certification or FINRA license may be helpful to get ahead. For those looking for more avenues to network and build their skills, there are a number of professional associations for risk analysts, including the Global Association of Risk Professionals, the Risk Management Association and the Professional Risk Managers' International Association. A quantitative risk analyst salary will depend on a variety of factors, including your employer and years of experience. For more information about salary, see the previous sections.
Quantitative Research Analyst
A quantitative research analyst tends to have a broader job description than financial and risk analysts but this professional designs and executes research projects to provide organizations with insights about their products, services and operations. They often do so by leveraging their technical proficiencies in Python, R or SQR to analyze large data sets or by using predictive modeling and simulations to develop solutions.
Like other types of quantitative analysts, quantitative research analysts can benefit from an advanced degree in a quantitative field and previous experience in applied research, but entry-level positions exist for those who only have a bachelor's degree. The average quantitative research analyst salary is always changing, so keep that in mind as you research earning potential. The BLS updates its site with nationwide salary averages.
Quantitative Analyst Qualifications & Education
As discussed above, quantitative analyst requirements differ considerably depending on the role, industry and company. A bachelor's degree is the minimum level of education needed to enter the profession, and ideally should be in a field like finance, statistics, mathematics, economics or business. Given that employers commonly list programming skills among their quantitative analyst qualifications, a degree in computer science could also prove helpful for launching a career in the field.
While a bachelor's degree is generally the minimum level of education required for quantitative analyst positions, some employers may list master's degrees or PhDs among their quantitative analyst education requirements. If you're hoping to advance in the field, keep in mind that you'll likely need an advanced degree to do so, not to mention potential licensure and certification.
Online Master's in Data Science Program With UC Berkeley
For aspiring quantitative analysts looking to hone their technical skills, completing a master's in data science could be a smart next step. Data science programs teach students in-demand skills like machine learning, statistical analysis and research design, all of which help quantitative analysts support their organizations in making informed, insight-driven decisions.
Learn more about UC Berkeley's online data science program, with flexible study options including accelerated and decelerated paths.