How to Become a Data Analyst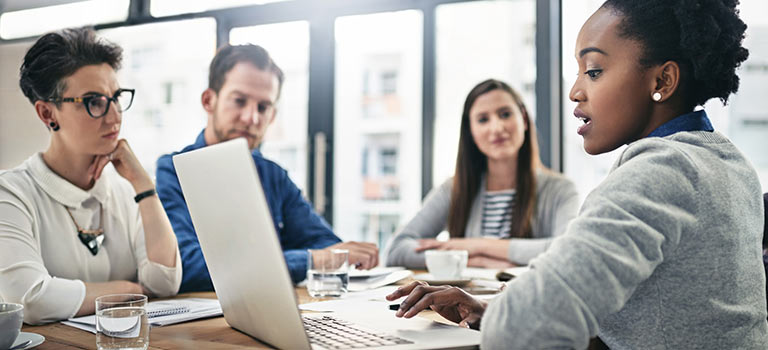 Data Analyst Career Path
There are many routes to becoming a data analyst. With a variety of data analyst careers available, some aspects of the career journey will vary based on the specific industry a candidate wants to pursue.
In general, the data analyst career path begins with earning a bachelor's degree in a related field, like mathematics, statistics, or computer science. The courses included in such degree programs help equip future data analysts with relevant soft and hard skills for the job.
Further education may be required in order to work in a given specialization or industry, like health care or the military. Prospective data analysts planning their career path may consider returning to school after some years in the workforce in order to stay up to date with current trends, methodologies, and software. In such cases, professionals can earn a master's degree. This advanced degree is preferred or required for certain positions.
Types of Data Analyst Careers
There are a variety of data analyst careers available that utilize quantitative and qualitative skills for industries such as finance and social networking. Essentially, a number of fields rely on data analysts to analyze and interpret data, help further research, and scale business impact. Some common data analyst jobs involve health care, clinical data, business, data security, and marketing. We'll break down each of these in the following sections.
Health Care Data Analyst
A health care data analyst is responsible for gathering, analyzing, interpreting, and compiling data for health care professionals to help them make informed decisions. With an increase in maintaining health records electronically, this position is frequently in high demand. The U.S. Bureau of Labor Statistics (BLS) predicts that between 2019 and 2029 the health care industry as a whole will add 2.4 million jobs, some of which will involve data analysis.
According to Pearson, a bachelor's degree is required to become a health care data analyst. An education in math, statistics, or computer science is helpful, and additional certifications related to the health care field have the potential to give candidates a competitive edge but aren't always required. Individuals interested in advancing the health care data field can pursue a master's degree.
A health care data analyst salary will vary as it is often commensurate with experience. Employers consider a candidate's education qualifications, prior on-the-job achievements, skills, and more.
Clinical Data Analyst
A clinical data analyst installs, manages, and optimizes computer systems within health care ecosystems and institutions, including hospitals and medical centers. In some situations, they may be responsible for training staff on how to use the installed software. Clinical data analysts ensure all systems are working properly to collect and analyze data while their managers utilize critical thinking, deductive reasoning, and strong communication to guide the team in reporting trends to stakeholders.
Today, clinical data analytics is used to solve a variety of problems in the health care industry, like identifying high-risk clinical populations in order to improve patient safety and elevate operational efficiency.
The position is gaining attention as the health care industry is expected to add over 2 million jobs by 2029. Similar to health care analytics, individuals considering this career can gain relevant knowledge and develop a technical skill set by earning a bachelor's degree in computer science or a related field. Depending on the job the candidate is applying for, additional training or professional experience may be necessary. A master's degree may be required for higher-up positions.
Education qualifications and experience level will often determine potential clinical data analyst salary.
Business Data Analyst
A business data analyst is responsible for strategizing, analyzing, building, and implementing tools that will help keep track of a business's data and information. This aids in the entire marketing process as businesses armed with data are better equipped to make decisions that increase profits and efficiency. As businesses continue to expand the digital platforms and softwares they use to track data, this position will remain in high demand. Data analyst positions (also called operations research analyst jobs) in general are expected to grow 25 percent from 2019 to 2029, according to the BLS. "Business" encompasses a wide range of possible job opportunities, so these positions will continue to be available.
A bachelor's or master's degree in a consumer- or business-related field can help prepare individuals for this role. Similar to other data analyst jobs, business data analyst salary levels can vary.
Data Security Analyst
A data security analyst is responsible for planning and carrying out security measures to protect information for various businesses and organizations. They work with software that protects all of the computer systems within a company to ensure that data and information are secure. The BLS estimates this job role will expand by 31 percent from 2019 to 2029 as a direct result of increased use of digital platforms to store information by companies.
To become a data security analyst, a bachelor's degree in some computer-related field is typically required. Some employers will also require a master's-level degree in information technology or information systems, as well as certain certifications. The median annual data security analyst salary was $103,590 in 2020, according to the BLS.
Marketing Data Analyst
The job of a marketing data analyst is to study trends and patterns within the economic market or within a specific business to determine potential sales and predict opportunities for increased profits. This helps businesses stay on top of supply and demand to make informed marketing decisions. Most marketing data analysts have at least a bachelor's degree in a related field, additional experience, and in some cases, a master's degree. Marketing data analysts employ math and analytical skills in their day-to-day work.
Marketing data analyst jobs are projected to grow 18 percent from 2019 to 2029 as a result of increased data and market research being used by businesses and entire industries. As of 2020, the median annual marketing data analyst salary is $65,810, according to the BLS.
Data Analyst Job Levels
A wide variety of data analyst jobs are available in different industries, and there are also opportunities for data analysts to move up in rank to take on more responsibilities or different duties. Data analysts typically start out at the entry level and then have the chance to become junior- or senior-level data analysts. As data analysts gain experience, they increase their chances of advancing to higher level positions, which may result in higher salaries.
Entry-Level Data Analyst
An entry-level data analyst typically has at least a bachelor's degree in computer science, data analytics, or a related field. In some cases, a master's degree is required. Experience in the field they're applying to, whether that be business, health care, or the military, is also typically asked of the candidate. Entry-level data analyst jobs allow novice data analysts to have the opportunity to grow and gain fundamental experience. Often working with a team, entry-level data analysts have opportunities to collaborate and learn from others on the job.
Compensation varies by company and location, so keep that in mind when researching data analyst salary at the entry level.
Junior Level Data Analyst
A junior data analyst typically holds a bachelor's degree in data analytics, statistics, math, or a related field, as well as a few years of experience in the field they're applying to work in. The difference in qualifications between a junior data analyst and entry-level data analyst is minor — junior data analysts simply have some more experience working in the field. As with select entry-level data positions, a master's degree may be required or preferred for some junior data analyst roles. Analysts at this level have the opportunity to gain more research and analytical experience while having a heavier hand in creating data strategies and collaborating with teams to make informed decisions around how to interpret and utilize data.
A junior data analyst salary may be higher or lower than the national average for all occupations depending on the job location and other factors.
Senior Level Data Analyst
Aside from a bachelor's degree, senior data analyst jobs generally require several years of experience and, in some cases, a master's degree. Senior data analysts will know the majority of what there is to know about the job and the industry, but there may be more room for learning even at this level.
The senior data analyst salary is different in each role.
Online Master's in Data Science Program with UC Berkeley
A master's in data science can help guide the way for a career as a data analyst. There are many paths one can take in order to become a data analyst, and a number of industries are in need of such professionals. UC Berkeley's online Master of Information and Data Science program combines foundation, advanced, and capstone courses with an immersion, giving students an understanding of how data science informs decision-making today.
Learn More About UC Berkeley's Online Data Science Program.