What Is an Information System?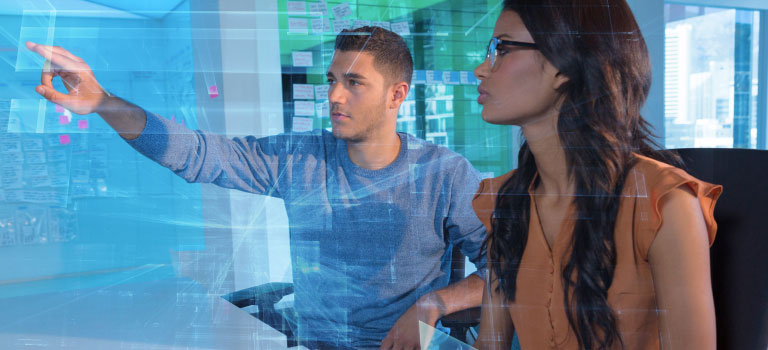 What is an information system, and why is it so important?
An information system is a solution that helps gather, analyze, maintain, and distribute data. It consists of hardware, software, and various networks that are often used by people and organizations to streamline workflows and achieve business goals.
How Does an Information System Work?
As technology continues to evolve at a rapid pace, business solutions become increasingly interconnected with information technology and data. In order to use information systems effectively, professionals must be able to answer a critical question: how does an information system work?
Information systems are typically made up of the following components: hardware, software, databases, networks, and human resources.
In our tech-dependent world, information systems often require a combination of both people and computers to function optimally. They not only provide, organize, and analyze data, but also present valuable information in a way that helps businesses make impactful decisions.
As complex as information systems can be, they're ultimately dependent on three factors: people, computers, and processes. There are also several types of information systems that work a bit differently depending on their setting, who is using them, and why. A few examples include:

Social information systems
Operations support systems
Search engines
Global information systems
Data warehouses
Enterprise systems
Decision support systems
Hardware
Hardware is one of the main components that make up an information system. People can physically see, touch, and engage with hardware, which is used to access and distribute data in a more tangible form. Hardware items range in size and function, with some used for direct human interaction and others used to collect and process information. Some key examples of hardware are computers, tablets, smartphones, keyboards, hard drives, and microprocessors.
Software
Software is another component of an information system that is heavily connected with hardware. Simply put, it provides a list of commands and functions that guide hardware through various processes. It is needed for the input, output, storage, and processing of information.
Software itself is broken down into a few categories, with some of the more common ones being system software and application software. System software runs a computer's hardware programs, such as MacOS or Microsoft Windows. On the other hand, application software allows users to complete a certain task.
Database
Both hardware and software are dependent on data to successfully make up an information system. A database is a collection of relevant data that people can access and use for specific tasks. It gathers information, organizes it accordingly, then allows for deeper analysis that can lead to useful insights. Databases function to store and retrieve data whenever it's needed. On a larger scale, a database management system (DBMS) helps organize and secure data so users can search for information more easily and efficiently.
Network
For data to successfully transfer from one location to another, it needs a network. A network is an intricate, interconnected system that exchanges electronic communications, files, and other resources. Physical devices like computers, smartphones, and televisions rely on networks to exchange data and important communications.
Networks have two transmission types: wired and wireless. Wired networks are more traditional in the sense that they require cables to connect to devices. Wireless networks do not need physical cables, as they rely on more recent technology like Wi-Fi.
Human Resources
While hardware, software, databases, and networks are important components of a functional information system, they cannot operate without human resources. Experienced tech, finance, and marketing professionals who know how to collect, analyze, and utilize relevant data depend on information systems for many reasons: to increase work efficiency, improve productivity, or identify solutions that can help them achieve their goals. With deeper insight into their processes, they are able to make more informed, data-driven decisions that are beneficial for their businesses.
Types of Information Systems
Although each type of information system has a differentiator, they often rely on one another when supporting a certain function or fulfilling a specific objective.
There are many different types of information systems, but some common ones include:

Management information systems
Decision support systems
Knowledge management systems
Transaction processing systems
Office automation systems
Executive support systems
Many businesses use these six types when overseeing and managing specific organizational tasks. By doing so, they're able to organize their information more effectively and streamline their operations, which can lead to greater growth, improved workflow, and increased profitability.
The transaction processing systems work at an operational level. Then, knowledge management systems and office automation systems operate at the knowledge level. Management information systems and decision support systems are typically used at the management level, while executive support systems are at the strategic level.
Here, we'll go into each category and provide further details on how they work.
Management Information Systems
A management information system (MIS) gives comprehensive, necessary insight into specific circumstances. It collects data from a transactional processing system (TPS) to produce detailed reports for middle management to review. These daily, monthly, quarterly, or annual reports often consist of different kinds of data that help middle or senior managers problem-solve and make impactful business decisions. By doing so, they can better control and optimize their general workflow while also improving their performance in various areas, such as sales.
Decision Support Systems
When managers make decisions, it's important that they have the data to prove why a certain direction is necessary, and how it can positively impact future business operations. Similar to an MIS, a decision support system (DSS) helps managers make data-driven decisions. As an interactive information system, it collects and preserves large amounts of information that may be needed to support the reasoning behind certain business choices. Managers can use DSS reports to compare and contrast information, as they sometimes provide charts or tables for easy analysis.
Knowledge Management Systems
A knowledge management system (KMS) saves, retrieves, and presents information that can help employees gain a stronger understanding of a certain topic. Some examples of this are employee handbooks, how-to articles, company policies, and other educational materials. A KMS also encourages teams to collaborate when completing a business objective, as they may have to work together to find a solution. By equipping employees with the necessary knowledge and context, a KMS prepares teams to efficiently complete a task.
Transaction Processing Systems
In order for most businesses to run smoothly, they depend on daily transactions and financial activities. A transaction processing system (TPS) stores, processes, and distributes transactional data so that designated employees can easily access information when needed. Some examples of transactional data include bank deposits, payroll, sales, and other expenses that help maintain daily operations. With a functioning TPS, businesses can confidently keep track of incoming and outgoing transactions, which leaves little room for human error.
Office Automation Systems
An office automation system (OAS) is primarily focused on communication technology, computers, and people. It moves data without the need for human participation, which helps to ensure that there are no possible errors. Overall, an OAS supports official activities at various organizational levels, for both managerial and clerical responsibilities. Some examples of office automation systems include emails, voicemails, and even video conference calls. An OAS also allows businesses to save time and resources, as it minimizes the amount of effort that employees need to put into office-related tasks.
Executive Support Systems
An executive support system (ESS) operates similarly to a DSS, but generally provides better computing capabilities. An ESS is also commonly used by higher-level executives when they need to lead company activities. It collects data from a DSS and MIS, then presents both internal and external information that decision-makers can use for their strategy. Whether it's through producing a billing and accounting report, database, or detailed competitor analysis, an ESS can be particularly useful for helping businesses achieve stronger, data-driven decision-making.
Types of Information Systems Jobs
By pursuing and earning a Master of Information degree, professionals gain a strong understanding of how information is created, stored, analyzed, and distributed. They become familiar with the ways in which information can drive companies and organizations forward, and will be able to work in a wide range of industries.
Below are some common roles that involve assessing and utilizing information:

Online Master of Information With UC Berkeley
Information is power — and the right master's program can make a world of difference, especially for professionals exploring career opportunities in information systems. UC Berkeley offers online Master of Information programs focusing on data science and cybersecurity that encourage curiosity, prioritizes accessibility, and strives to develop meaningful, technical solutions that can improve everyday lives. Ready to get started on an enriching educational journey?