Tim Slade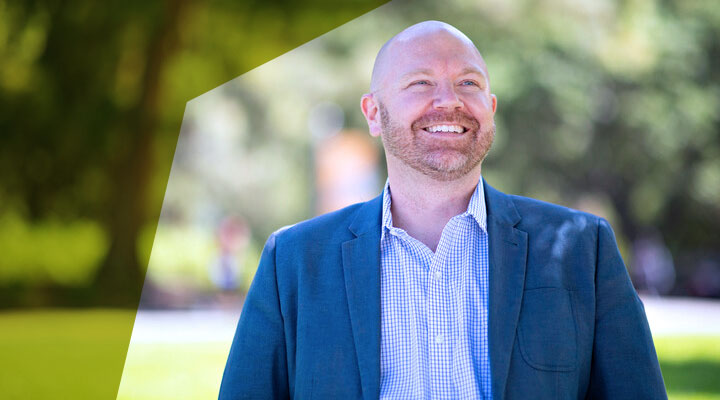 Tell us a bit about yourself.
I work in the field of global development — i.e., I try to help improve conditions in the least-developed countries. I'm specifically in the field of education, and have spent the last seven years trying to improve literacy and numeracy outcomes across various sub-Saharan African countries. Some of my work has involved large-scale research studies, some has involved impact evaluations, and some has involved designing and executing interventions including teacher training, curriculum development, instructional coaching, and the like.
Before joining my current employer, I led education programs for a refugee resettlement organization in San Diego, helped design a skill-building program for a social-development NGO in Cairo, taught French and Spanish at a private school in North Carolina, and served as an AmeriCorps volunteer in an urban elementary school in St. Louis.
I have a wife, Anna, and three kids (11, 7, and 14 months). We'll be returning to the U.S. after more than 4.5 years in East Africa (first Malawi, then Kenya) so my wife can resume her career as an occupational therapist.
At what school and in what concentration did you receive your undergraduate degree?
I earned a bachelor of arts in French language and literature and a bachelor of science in exercise and health science (EHS), both from Alma College in Alma, Michigan.
Why did you choose the UC Berkeley School of Information?
The I School's two main draws were the flexibility of the program delivery and the reputation of the university.
As the sole breadwinner in the family, I could not afford the opportunity cost of stepping away from my career to pursue this kind of certification and upskilling. However, I could carve out time to complete the degree in the evenings and on weekends, all while continuing to work. (The skills I've gained as part of the program have made me even more effective in my day-to-day work. So my employer has gained from my schooling as well.)
I also knew that Berkeley is a top-notch school. When discussing the program with my wife, I told her that if there was ever a discipline in which you could attain a significant degree of proficiency solely through self-study using freely available materials, it was data science. If I tried to do things through self-study alone, though, I knew that it would both take much longer (no external accountability!) and also leave me with a lingering fear that I might have missed out on something critical. So I knew I wanted something more structured and formal … but with so many programs, boot camps, nano-degrees, etc., available in the market, it was important to me that I receive my training and credential from an institution whose reputation I knew I could trust and whose presence on my CV would serve as a differentiator. Berkeley fit the bill on both accounts.
What is the I School's advantage?
The I School's greatest strength is the caliber of the student body. The professors are certainly strong — we have a really well-balanced mix of academics and industry professionals, and you can generally select your class sections to get more of one approach versus the other — but it's really your peers in the program that make it worthwhile.
I have invariably found I Schoolers to be accomplished, talented, interesting, and generous people. While they come from a wide variety of backgrounds, they share a common curiosity about the world and how data can be used to understand it more fully. Those who have become experts in their fields generally seem to have retained a sense for their experiences before they became experts, and are generous with their time, wisdom, coding advice, and humor. They're an incredibly stimulating and rewarding group of peers. Developing these relationships has itself been worth the price of admission.
What has been your favorite class at the I School and why?
I'm a little more than halfway through the MIDS program, so several excellent and intriguing courses remain in my future. Of the courses I've completed to date, however, I think the W200 (Python) course was my favorite. I was a largely self-taught coder before MIDS — W200 was my first formal course work in any sort of programming, and it was a lot of fun to be approaching the content in a structured and systematic way. Also, the assignments provided a lot of room for creativity and whimsy, so there were wonderful opportunities to get to know my classmates' personalities, interests, and values through their work.
What are your future plans?
I am relocating to Southern California in the near future — it is time for me to support my wife as she pursues her professional dreams, rather than vice versa. Whether I will remain in the global development field is an open question, and largely dependent on which opportunities present themselves to work remotely from SoCal.
I have had the privilege thus far in my career of working for employers whose values align well with my values. I am driven to do work that will advance social justice, expand opportunity for the marginalized, and which is guided by the best available research and a commitment to social good. I am certain I will find ways to apply the tools and techniques I have learned in MIDS to my work, regardless of where I end up, but would prefer to find a role that allows me to mentor junior colleagues while also engaging directly with the cleaning, exploration, experimentation, and visualization of our data.
Beyond that, I am looking forward to expanding my service to the nonprofit community. While living in Kenya, I have taken up a role on the board of an NGO called The Dignitas Project that aims to improve education quality in Kenya, including in some of Nairobi's informal settlements.
Do you have any advice for aspiring information professionals/data scientists?
Stay curious.
There are a million and one tools, techniques, algorithms, etc., out in the world. You will not — indeed, cannot — stay on top of all of them. By the time you get around to mastering one, odds are good that its replacement has already entered the ecosystem and is making waves of its own. Trying to learn ALL THE THINGS or master ALL THE TOOLS or use ALL THE ALGORITHMS is a Sisyphean task.
So don't burn yourself out trying.
Odds are good that you came to data science at least partly because you are an inquisitive person. Odds are also good that if you're in the MIDS program, you have a growth mindset. Double down on those.
Embrace your curiosity. Let it strongly inform the things you choose to work on. You will be forced to encounter, adopt, and master new techniques along the way — that's the nature of working on difficult and intriguing tasks in the real world — and it is perfectly legitimate to let that drive your growth as a professional. If there are problems you find intriguing, but you'll need to level up in Skill Area X to begin tackling them, that's fine, too. Learn first, then engage. There are no metaphorical carts or horses here — but there CAN be a virtuous cycle of growth toward excellence.
Regardless of whether you let the work drive the professional growth or you pursue the professional growth to enable the work, once you're IN the work, again, stay curious.
Let your curiosity drive your skepticism of the claims people make with and about data. Let it drive a playful approach to visualizing and communicating your results. Let it drive an expansive and creative imagination regarding which problems are tractable and how they can be engaged. Just be sure along the way to be guided by a commitment to ethical conduct.